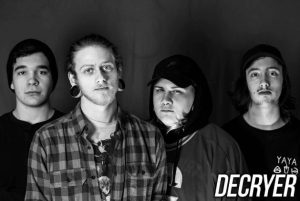 Congrats on signing to Lost Glacier Records. How exciting is that for Decryer?
We're pretty stoked on the opportunities this presents us. It's a big step forward in what we can do as a band and what will come out of our work as a group with the label. It's  definitely a move towards legitimizing us as a force in the business realm as well as the music community.
What do you feel makes your sound different from other bands?
We're not trying to confine ourselves to one particular genre, and with our vast array of influences from pop punk to slam and everything in between, we can effectively explore other areas most bands are afraid to step into.
Tell us about the new album that you have been working on?
We're trying to step out of our comfort zone and challenge ourselves as musicians. Exploring many of our influences and progressing as a band while making something that people can enjoy.
What inspired the songs for your upcoming release?
The current state of the world, specifically our country, has influenced us a lot in our lyrical content. There's a lot of crazy stuff going on out there, and the best way to speak out we feel is through our lyrics. On the music side it's been a whole lot of Monuments and August Burns Red influencing the writing.
What were some of the obstacles you have faced over the years? Seems like things are starting to come together for you.
Defining who we are as a band, and keeping dedicated members that want to work were our biggest obstacles.
Are there any tours in the works? Where are you most excited to play?
Things are starting to fall into place for us, and we don't have any tours right now but we definitely have plans to expand our playing radius in the near future.
Can you tell us any interesting stories from the road?
Our van at one point broke down in the middle of an intersection and we had to push it into a parking lot. I'm sure the more we travel the more interesting our stories will become.
What can we expect from Decryer in the future?
New music, new merch, and a whole lot more shows!